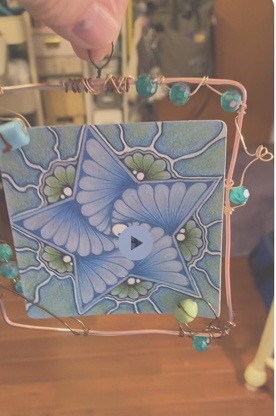 Join Terri Young, CZT for this super fun optional class!
Frame any size tile by using a special template, bending wires, adding embellishments to make your artwork stand out! Get creative with twists and swirls, dangles and wraps to create a one of a kind frames. You could even hang two frames back to back or create a mobile!
Kits include:
Jewelry wire in 16, 20 and 22 gauge
Base to work on
Large T-pins
Wooden dowel cut to size
Beads with holes
Printed instructions
Bring to Class
Pretangled or blank tiles of various sizes, regular, apprentice, phi, bijou, Zendala,3Z
Wire cutters
Needle nose or Chain nose pliers
Round nose pliers
Beads (with holes) of various sizes and shapes (a few will be in the kit but you may want more)
There will be some tools to borrow - or team up with a friend and share tools.