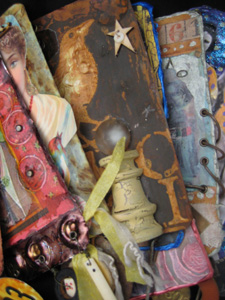 Taking the Mystery Out of Working with Metal
In this workshop we will transform ordinary metal into a fabulous thick, chunky, beautifully embellished deck of cards! We will be working on on 10 flat pieces of tin, each 6 X 3 inches, and transforming them into beautiful works of art. We will explore a variety of ways to use & distress metal, cloth, paper, found objects, and you will learn a plethora new ideas & techniques!
This class includes 9 hours of instruction over two days plus a week to work on finishing your deck. Then we will have a special 1 1/2 hour class exhibit on Zoom where you will have the opportunity to share your deck and see what others created!
You will learn how to work with metal and in depth instruction on…
-preparing metal
-metal transfers
-faux etching
-inks and waxes
-collage and composition
-textures and layers
-patinas and rusting
-cold connecting
-working with small found objects
-how to correctly use tools & products
-creating a cohesive, themed project if desired
With Leighanna Light March 12 12 - 5 ET
March 13th 12 - 4 ET
March 20th 12 - 1:30 ET
This workshop is packed with tips, tricks and techniques suitable for beginning to advanced artists. You will you will leave with a unique, beautifully embellished art deck that can be bound by decorative wire or transformed into a book or sculpture if you wish.
Feel free to choose a theme ahead of time or not, either way these are a blast to make and once I start it's difficult to stop!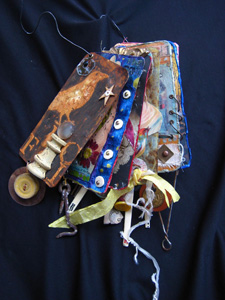 I am a passionate art instructor, thingmaker, bookmaker, figurative assemblage artist and recovering perfectionist! My background is in fine arts and photography and I've been teaching art workshops for the past 20 years at art retreats in the US. I develop my classes by playing, making a mess, making "mistakes" and I can't think of any better way to live and make a living. I love to create, to hunt for things to create with & to share my creativity with others. It's what I live for, it's my oxygen.
I grew up in a small town in upstate New York and I have spent most of the past 20 years in New Mexico. I am so lucky to live in Taos, the mountains of Northern New Mexico, with my best friends Thomas, Peetie, Ruby, Lily and Hairy.
http://www.leighannalight.com/
https://www.facebook.com/pages/Leighanna-Light-Thingmaker/485836114807701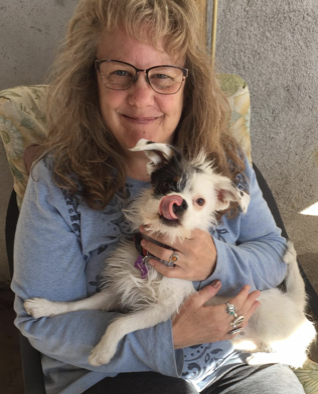 Check your inbox to confirm your subscription